Who I Am
My name is Sarah Gill and I am a professional service dog trainer and handler. I entered the world of professional service dog training after being in a car accident. As a result, I was restricted to a wheelchair for almost two years trying to maneuver in a house that wasn't designed for it. I was never expected to walk again.
This opened my eyes and became a driving force behind pushing myself to defy the odds. The moment I regained some stability, I attended a dog training school to learn how to train service dogs. I completed my Master Trainer Certification and gained further experience by training new trainers. However, the school wasn't accommodating to those with physical difficulties and PTSD. Hence, I moved home to Dallas.
I started this journey because I had a trained dog to mitigate my disabilities, but needed additional tasking for a new diagnosis. The only option I could find was getting a second dog for the new diagnosis. I knew there had to be a different way to address this. I wanted to change the ways of service dog training.
These are a few of my personal diagnoses:
In 2007 I was diagnosed with PTSD, TBI (right frontal lobe), and agoraphobia.
Five years later I was in a car wreck that put me in a wheelchair and the doctors told me I would never walk again. I was diagnosed with complex regional pain syndrome and neuropathy. To date, I had 10 surgeries to get me to where I am now.
In 2017 I had surgery #7, came home for a few days before starting to decline and I was rushed to the hospital and immediately placed into a medically induced coma due to an organ shutdown.
Also, as a result of this organ shutdown, I started having heart issues.
In 2018 I had a heart attack.
I wanted to gain as much experience training service dogs as I could, so I started working with pet dogs and working dogs; addressing their behavioral issues. After several years of training hundreds of pet dogs and 34 service dogs, I started bringing my vision to fruition.
The Service Dog Industry
Throughout my time as a professional dog trainer, I listened to many service dog handler stories and noticed a growing trend of 'service dogs' with incomplete or poorly trained tasking. For example, one company supposedly trained a dog to do seizure work, but when the dog came home, it only performed a couple of other, non-core tasks and was unable to serve its main purpose of giving the person more independence. That is hardly acceptable after spending tens of thousands of dollars. One of my services includes retraining the main task(s) as well as adding additional tasks to make the dog work more effective. Many diagnoses and disabilities worsen over time and there is no reason a dog can't be taught additional tasks.
The service dog industry has a lot of potential for improvement. Review my services page. If you don't see the specific type of service dog you are looking for, please contact me and ask. I currently train dogs in over 140 general and service tasks. They are listed here.
I currently have three personal service dogs. All my dogs have always been all black and pulled from shelters, rehabbed, and given jobs. My shepherd is in training still and I'm always experimenting with new tasks and tricks with my guys.
Sarah's work was also featured in Voyage Dallas, where she worked for many years.
Sarah Working with Service Dogs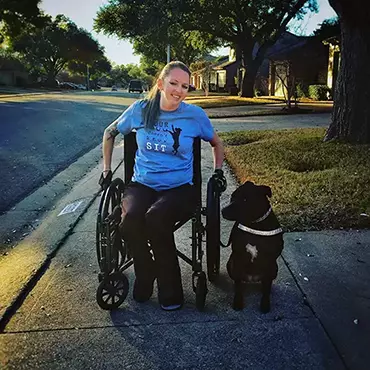 Services and Area
We are located in Southern California and train service dogs nationwide. Hence, Total K9 Focus currently offers local service dog training in several areas. Riverside County, Orange County, San Bernardino County, Los Angeles County, and San Diego County. In addition, we offer our service dog board and train program and all virtual training services nationwide.
Are you looking to get your own service dog? You came to the right place! We are experienced service dog trainers. Consequently, we can help you with any service dog request. For many of our clients, we train a service dog from puppyhood. However, we also evaluate the service dog potential of existing pets or rescue dogs. Our flagship product is our board and train program. In addition, we offer owner-trained service dog support. Further, provide virtual service dog training worldwide.
Further, we can add tasks to an existing service dog you already have. Or help you solve a tasking, training, or behavioral challenge you may face with your current service dog. We offer several service dog financing options to make it possible for you. We recommend you start by reading our article on what makes a good service dog. Next, review the Service Dog Consultation page to understand the high-level process. Finally, once you're ready to move forward, please use our service dog contact form to schedule your free consultation.