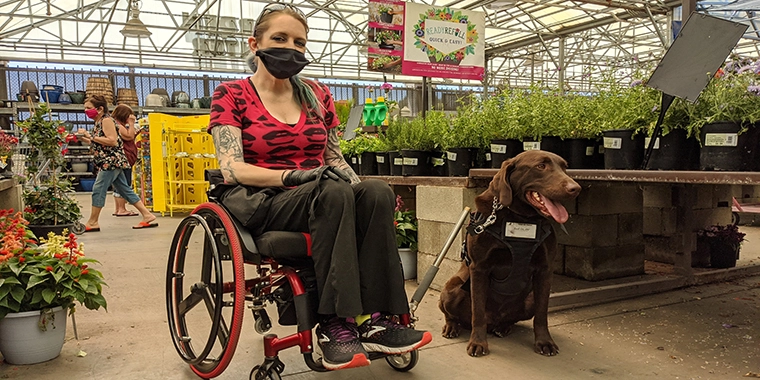 Service dog training is highly specialized dog training producing reliable dogs, to support people with a wide variety of conditions. This page provides a high-level overview of the services we offer and some of the things you should consider when selecting a service dog trainer and service dog. During your service dog consultation, we will discuss all aspects of your future service dog in detail.
This website is about our services and how we can help you get the best service dog for your specific needs. During your service dog consultation, we will discuss details regarding your conditions, how a dog can help you best, and the overall training process. If you have general questions about the Americans with Disabilities Act (ADA) regulations for service animals, please read ADA Regulations for Service Dogs by the Department of Justice (DOJ).
Conditions We Train For
Our service dog training programs presently offer dogs task-trained to support people with:
Mobility
Stability
Cardiac Conditions
If you have questions about other conditions, feel free to ask. The listed conditions are what we train for most regularly but we can train tasks applicable to many other disabilities. Please check our Giant List of Service Dog Tasks, to see if any of these may be helpful for your conditions. We are also open to discussing any other or additional tasks requests. However unique your request may be, we are always happy to discuss if we can help you. We are professional service dog trainers and if a dog can do it, we are confident we can get it done for you.
The complete service dog training process can take anywhere from 1 to 3 years. The duration varies greatly by client. The training effort is based on current needs, expected progression of the condition, and the training program you select. We'll discuss these details in more depth during our service dog consultation.
All dogs are task trained to meet your individual needs. In addition, the dogs are trained to understand all basic commands and are socialized in all relevant environments.
Training Options to Discuss During Our Service Dog Consultation
We offer services nationwide. Depending on your location, we have several different options you can choose from:
Board and Train:

This is our most popular program and the best option if you don't have enough time to train your dog every day. It's also great if you don't live locally.

Private Lessons or Day Training (local only):

If you live locally and want to train your own service dog, this option is for you. I will work with you side-by-side, guiding you all the way through the process. Read more.

Virtual Coaching (nationwide):

The perfect option if you're not local but still want to benefit from our experience in service dog training. Through virtual online sessions and phone support, we coach you step-by-step. You work hands-on with your dog under our guidance. Read more.

Service Dog Troubleshooting:

If you have a service dog problem you can't solve and no longer have access (or no support) from your original service dog provider, we can help you. We will develop a customized training plan to get your service dog back on track. Read more.
Most service dog training starts with carefully selected and specifically raised puppies. This is how most service dog trainers work. We offer the same option, but we also offer something far less common. We also train rescue dogs to become service dogs. Contact us to discuss this option for an existing rescue dog you may already have in your home. It will start with testing your dog's potential for service work.
Service Dog Requirements
To be able to get a service dog from us you must:
Have a diagnosed physical or mental disability as per ADA standards.
Live in a stable environment.
Are able to meet the physical and mental needs of the dog.
Have reliable transportation should an emergency vet visit be necessary.
Please also check the full details on who qualifies for a service dog from us.
Training Consideration
When looking for service dog training, you basically have three options: You can train the dog yourself, you can go through a program to get a dog, or you can use a private service dog trainer.
Owner training can be hard. Debilitating symptoms can make it very difficult to get the daily training in. Your dog will require consistency and many hours of work.
Program dogs typically have long wait times. Many program organizations are also unwilling to place dogs in homes with other dogs. Program dogs are cheaper but not customized to you. You get what you get.
Private trainers often have a waitlist unless you catch them at the right time, but the training is 100% customizable. However, it is more expensive.
Consider The Dog
As a general rule, dogs will not be ready to work as service dogs until they are at least 16-18 months old. In addition, while any breed of dog can be a service dog, not all dogs will be suitable for this type of work. For example, light to heavy mobility and stability dogs need to be a certain size to safely perform certain service tasks. As a result, this limits those types of tasks to larger dogs and appropriate breeds. We strongly recommend not getting a dog on your own. It will significantly increase your washout risk. Let the service dog trainer you select, guide you. Please also read our article on the most important things to look for when selecting a service dog.
Finally, take a look at The Giant List of Service Dog Tasks we train.
Training and Outings with Service Dogs